DITA Metrics Resources
This webpage provides access to various DITA Metrics resources that I've discovered over the years which are still relevant. I've also included metrics resources that may not be DITA-specific, but are still applicable and valuable to this metrics community.
Over the next few weeks I'll be adding links to More Resources. These links are to resources that can get lost in the DITA Metrics LinkedIn group. The goal of this list is to make those resources more findable to members and non-members. And I'll also be providing a better user experience for this resource in the near future.
DITA Metrics 101 Book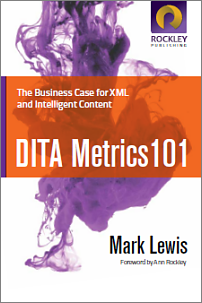 More Resources
Title: ROI of XML for Content Strategy & Technical Publications webinar
Webinar / Panel Discussion hosted by: Single Sourcing Solutions
Primary Link to Resource: Description
Link to recording
Link to Secondary Resource – OASIS

Abstract (from OASIS):
If you have information about your company's product or services that needs to be delivered to customers, whether it's in print or electronic form, chances are you have heard of XML.
Are you finding yourself in the position of having to explain to others:
• What's all the big deal about XML?
• Why should I care?
• What's in it for me?
• How is it going to save me time?
• How will I lower cost?
Then come and listen to our expert panel of industry leaders as they share with you a bit of their journey and what the true ROI is of XML. Experts from Hewlett-Packard, Medtronic, Nortel, and Toro.
No matter how large or small, how new or how old your company is or what technology or service your company provides XML can have significant returns for you in:
• Reuse content for faster delivery of information
• Separation of form and content (your writers can write rather than try to tweak with documents to get them to look right)
• Ability to deliver information in the language and format of choice
• Utilize resources more effectively to help you meet your deliverables/Do more with less/Improve time to market/Productivity
Who should attend?
• Business leaders who are interested in gaining a competitive edge by improving product information.
• Content creators who are trying to help their management understand the need for change.
• Executives with P&L responsibility who need to drive to a greater ROI.
Keywords:

Hewlett-Packard, Medtronic, Nortel, and Toro, ROI XML Content Strategy Technical Publications Benefits of XML Savings Separation of content from format Reduced time to market Improved product information Profit and Loss P&L

Title: Documentation Project Metrics
Posted by: Mark Lewis @LewisDITAMetric
TechScribe offers some great advice on documentation project metrics on their website. And the article offers links to several other valuable metrics articles.
Primary Link to Resource
Secondary Link to Resource
Keywords:
Documentation project metrics Documentation metrics Number of pages Number of Topics Project data Page-based metrics Topic-based metrics

Title: Similarities and Savings for Conrefs and Translation
Author: Mark Lewis @LewisDITAMetric
This paper shows an interesting similarity between the reuse mechanism of the DITA content reference feature and a translation memory (TM). We then discuss this similarity in terms of cost and show that the savings that can be achieved using DITA's content reuse feature are similar to the savings possible using a translation memory.
Many thanks again to Julio Vazquez for his excellent review and feedback on this paper. Thanks Julio!

Link to Description
Primary Link to Resource: OASIS
Secondary Link to Resource
Keywords:
Translation metrics Translation memory metrics Translation memory savings TM metrics TM savings metrics DITA conref metrics DITA conref savings DITA reuse math DITA reuse metrics DITA percent reuse DITA percentage reuse single source publishing metrics single source publishing statistics
Reuse calculate reuse calculation
DITA Reuse Calculator
DITA Reuse Calculations
DITA metrics DITA economics DITA cost metrics DITA statistics DITA formulas DITA ROI DITA case study DITA business case
DITA Cost Calculator
DITA Cost Calculations
Cost trends savings trends
XML average cost topic

Common Keywords:
DITA metrics DITA economics DITA cost metrics DITA statistics DITA formulas DITA ROI DITA case study DITA business case
DITA Cost Calculator
DITA Cost Calculations
Cost trends savings trends
XML average cost topic